Death Notices
Jay Don Allen - 74
Jay Don Allen, 74, of Costa Mesa, California passed away on August 13, 2020 in Dallas, Texas. Jay Allen was born in Austin, Texas to Gwendolyn June Haws and Leon O. Allen on January 10, 1946. He went to Newport Harbor High School and graduated in 1964. He received his BA in History from UCSB and attended UCLA and received his master's degree in Education from New Mexico State University.
He first taught as a member of the National Teacher Corps in El Paso, Texas. His teaching career later involved assignments at various schools in the Middle East, Asia, and finally in California. He taught dependents attached to overseas installations of Air America, Bell Helicopters and Aramco. Returning to California, his international experience led him to a position as ESL adult education teacher in the Newport-Mesa Unified District, and finally, an elementary teaching post with the Santa Ana Unified School District. He had a love for teaching, and it was demonstrated in the eagerness and responsiveness of the children surrounding him in a classroom full of life and laughs as well as learning.
Jay's interests were eclectic. He enjoyed politics, family, traveling, cats, friends, writing and always making people laugh. Jay kept in touch with relatives, friends and associates, and he was enthusiastically involved in Newport Harbor High School reunions. And above all, he had a profound love for America.
Jay Allen is survived by his wife, Maria Allen of Bell, California, his daughter Abigail Goldstein of Dallas, Texas, his son Jason Allen of Costa Mesa, California, his sister June Lee Pilsitz of Corona del Mar, California and his uncle Mike Wacker of Austin, Texas, his granddaughter Kendall Goldstein of Baltimore, Maryland, his grandson Grayson Goldstein of Dallas, Texas, his granddaughter Teva Goldstein of Dallas, Texas and his grandson, Sawyer Goldstein of Dallas, Texas. Memorial donations may be made to PETA (People for the Ethical Treatment of Animals), 501 Front St., Norfolk VA 23510 or St. Jude Children's Research Hospital, 501 St. Jude Place, Memphis, TN 38105.
The family wishes to extend their gratitude for the unwavering support and love he received throughout his journey. Due to Covid, the Celebration of Life has been temporarily paused until conditions allow. We are hoping and anticipating something this coming winter. Please email briangold70@gmail.com if you would like to be included in the festivities celebrating Jay Allen. It is a momentous occasion, and we would love for everyone to join us.
Marius Burke, Jr. OCTOBER 8,1937 – OCTOBER 29, 2020
Born in Elmhurst, NY, Marius joined the Naval Reserve at the age of 20. A year later, he accepted a commission with the U.S. Marine Corps, where he attained the rank of Major. A graduate of the service's flight training program, he flew fixed-wing and rotary-wing aircraft for the Marines and Navy, including time on aircraft carriers that took him to many countries and continents worldwide. His love of travel and exploration never stopped. In 1963, following his active-duty career, he joined Air America, flying secret missions throughout Southeast Asia on behalf of the U.S. government. He performed this work with quiet courage, never bragging about the lives he saved—military and civilian—while experiencing his own close calls with death. On his office wall is a small picture frame containing the bullet and helicopter fragments that landed in his lap during a particularly harrowing flight.
During the last year of the Vietnam war, he was one of several Air America pilots that evacuated Danang, Nha Trang, and Saigon. Iconic photos and film on April 30, 1975, captured these brave pilots landing on rooftops, picking up desperate Americans and Vietnamese and shuttling them to waiting ships. On that day, Marius flew for 15 hours straight, getting out of the cockpit only twice. He wrote of this experience, "I salute all those fine crews and support personnel of Air America who made it happen."
Following the Vietnam War, Marius returned to the States, settled in Utah, and started several real estate and construction businesses. However, his passion for flying drew him back, and he joined the Army Reserve and Key Airlines, an air ambulance company, and later Air Methods, where he eventually became the Director of Operations until he retired. Even after retirement, he continued to consult in the aviation business for companies around the world. Upon his retirement, Marius and his wife, Vinetra, relocated to Merritt Island, Florida, where he reconnected with many Air America members. He looked forward to their weekly breakfast meetings. He also joined the local chapters of the Navy League and Daedalians, making new life-long friendships.
Marius was known for his dry sense of humor and quick wit. His coworkers remember him fondly as intelligent, thoughtful, and a big prankster. He seemed to avoid trouble somehow while causing a bit of mischief in the workplace. He was a gifted athlete and loved the game of golf. In high school he held state records in track. He also enjoyed bowling, racquetball, and skiing. Marius' success in the military, in business, and in life was due to his fierce determination, loyalty, and a bit of luck. He faced his diagnosis of mesothelioma with that same level of fortitude and grit. While the disease robbed him of his health, it did not deprive him of his good humor.
Marius is survived by his wife, Vinetra. Married more than 56 years—he knew she was "the one" the first time he saw her. He is also survived by his children Craig (Jill), William (Carissa), Susan (Kenneth), and Edward (Allyson) and grandchildren, Porter, Matthew, Crestone, Emmeline, Richard, Richly, Jane, and Emma. He is survived by his sister Mary Ann Kaufman (Stu) and his brother Bruce (Rose). He is preceded in death by his sisters Evelyn, Ireen, and Linda. At his request, Marius will be cremated without a service. The family plans to hold a memorial in the future. In lieu of flowers, the family encourages donations in Marius' memory to Disabled American Veterans, Daedalians, Navy League, or St. Francis Hospice. https://www.dignitymemorial.com/obituaries/rockledge-fl/marius-burke-9870807
John Henry (I.W.) Harper
"Society grows when old men plant trees whose shade thy know they shall never sit in" -Greek Proverb
2cc.org, then click "YouTube." (Please note that this link will only be available during the memorial service and not before.)
2019 Air America / CAT Reunion Banquet in Washington, DC
Sitting: Sandra & Bill Chen, and Cynthia Chennault
Standing: Joan & Kimberly Davis (AAM), Aie Teck Lau, Skip Willauer, and Bob Chen
In lieu of flowers, the family requests that friends donate to the "Bob Chen Memorial Fund" that has been organized by Bob's Chinese-American FF Fraternity. For further information, you may contact Kevin Feng, chairman of the New York Lodge, at kevin.k.feng@gmail.com.
Bob worked tirelessly so that Chinese-American veterans would be better recognized for their service. Shortly before his untimely death, he asked Bill to help him prepare an insert for the program of the Congressional Gold Medal Award Ceremony for Chinese American WWII veterans—a ceremony held in September of this year. Bob was rightfully proud of his family's three generations of service to our country. In remembrance, below is a family placard that records their service.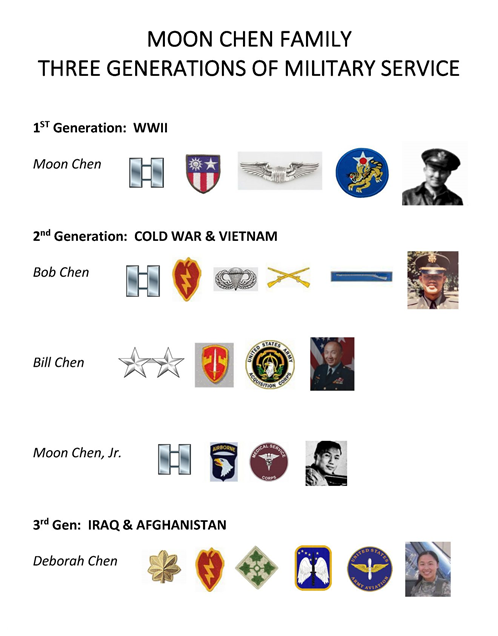 We thank Moon, Bob, Bill, Moon Jr., and Debbie for their service. Moon Chen, Sr. worked with my father during the war, and our families are close. Moon was a WWII veteran whose unit was integrated into the China Air Task Force (July 1942 - March 1943) after the AVG was disbanded. He continued to serve under General Chennault in the 14th Air Force.
Bob will be missed by his CAT family. We send our deepest condolences to Aie Teck, Sandra and Bill, and all the Chen family.
Cynthia L. Chennault, President The CAT Association
---
To view death notices from past years, please visit Previous Death Notices